BOOMER™ 41

Gallery
CALL FOR PRICE
410-247-9600
Features*
The mid PTO, independent rear PTO, 9.2-gpm hydraulics and 3-point hitch mean you can handle a variety of implements for just about anything on your to-do list.
You operate in confidence and comfort with unmatched Boomer™ visibility and natural controls.
You get the peace of mind of New Holland's FREE Boomer Guard6 Limited Warranty that includes 2 years "bumper to bumper" coverage plus an extra 4-years of powertrain protection.
---
ENGINE
HIGH POWER AND PERFORMANCE
Whether you use your tractor to maintain a few acres or you depend on it to make a living, Boomer™ compact tractors will deliver. In all, there are four models ranging from 33-47 hp to choose from. As a rule of thumb, the more work you do in a typical week, the greater the horsepower you'll want.
Proven 3 and 4-cylinder diesel engines with 91 to 135 cubic inches of displacement provide power for your toughest chores.

EXCEPTIONAL DRIVETRAIN EFFICIENCY
To make you more productive when using implements powered by the rear PTO, Boomer compact tractors are designed with drivetrain components that provide maximum PTO horsepower while minimizing engine power loss.

WELL-EQUIPPED FOR INCLEMENT WEATHER
To ensure fast starts in cold weather, Boomer compact tractors come equipped with a quick-heating glow plug and a heavy-duty 660 CCA battery that provided plenty of cranking power.
Transmission
FREEDOM OF CHOICE COMES STANDARD
Everybody's needs are unique. That's why Boomer™ compact tractors are available with two transmission options: a Hydrostatic Transmission, or a Synchronized Shuttle Gear Transmission (Boomer 33/37 = 12 x 12 SSS / Boomer 41/47 = 16 x 16 SSS).
Option 1: Hydrostatic Transmission (HST)
For Smooth and easy operation, a Hydrostatic Transmission is your best choice. It allows you to adjust your speed - and change from forward to reverse - using two foot pedals; one to move forward and one to move backeards. There's no need to engage a clutch or adjust shift levers. This transmission is simple to use even for the novice operator.
Option 2: Synchronized Shuttle Shift (SSS)
If you perform tasks that require shifting between forward and reverse repeatedly, and you prefer a traditional transmission, the SSS transmission can make it easier. The Boomer 33/47 utilize 12 x 12 SSS transmissions, while the larger Boomer 41/47 use 16 x 16 SSS transmissions. The shuttle lever (mounted on the left of the steering column) and the gears are synchronized, so ther's no need to come to a complete stop before shuttling or changing gears.
CRUISE THROUGH TEDIOUS TASKS
Give your right foot a rest. Select and maintain a constant working speed with the standard cruise control (offered on HST models). It really comes in handy for mowing larger properties and transporting your tractor from one location to another.

---
FRONT WHEEL DRIVE AXLE
EXCEPTIONAL MANEUVERABILITY
No matter what the task, you'll appreciate having one of the tightest turnaround diameters in the industry. Our FWD axle comes standard on all models and lets you maneuver effortlessly around obstacles and make extra-tight turns when mowing, grading or performing any other task on your "to do" list.
The Boomer's FWD axle is designed for your heaviest jobs. With plenty of cast iron ans steering cylinders positioned up and out of the way, Boomers are ready for your toughest tasks in the roughest conditions.
It's reassuring to have extra traction when you need it. Simply engage the FWD lever to instantly employ the front wheels for additional traction in slippery conditions.
---
OPERATOR PLATFORM
The logical control placement and clean, open Boomer™ operator platform helps you get each job done more quickly and efficiently, and with less fatigue. And Boomer compact tractors adjust to suit operators of all sizes, so it easily becomes everyone's favorite tractor.
CLEARLY MARKED, INTUITIVELY PLACED CONTROLS
You can be confident of your every move because all controls are logically placed and clearly marked. Throughout the tractor, levers, buttons and handles are where you'd expect them to be for easier access, contoured fender to your right and left house the ransmission, PTO and three-point hitch controls.
AUTOMOTIVE-STYLE DASHBOARD
The easy-to-read dashboard instrumentation includes fuel guage, temperature guage, tachometer, PTO speed indicator, hour meter, cold starting aid indicator and warning lights for engine oil pressure and battery charge.

FORWARD VISIBILITY COMES FIRST
One thing you'll notice and appreciate right away is that the shaped hood gives you excellent forward visibility from the tractor seat. That's because we put the muffler under the hood, and not in your line of sight like on competitive tractors.
The steering wheel tilts for maximum comfort

Safety-start system includes an operator-presence switch that shuts the tractor off if you leave the seat when certain criteria are met

The suspension seat is adjustable for weight and position to accomadate any sized operator

Sound dampening rubber floor mat is standard on all models

Plow windows keep noise and dust out of the operator area

Cup Holder and tray are conveniently positioned for the operator use

Foldable ROPS are standard on every model to make storage more accessible
---
WARNING, THIS IS NOT A TOY
Need a responsive, hard-working, comfortable compact tractor that makes your job easier? Look no further than the NEW Boomer™ compact tractors from New Holland. They are the ultimate power tool for homeowners, rural lifestylers, landscapers, farmers, golf courses and municipalities.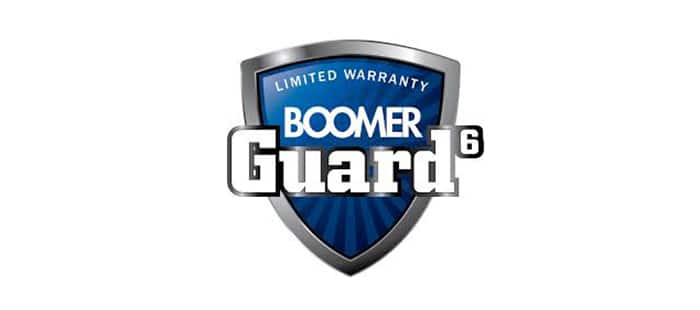 NEW HOLLAND HAS YOUR BACK
WITH BOOMER GUARD

Peace of mind comes standard with Boomer™ compact tractors because they are backed by a FREE Boomer Guard6 Limited Warranty. It provides 6 years of worry-free operation, including 2 years of "bumper-to-bumper" coverage plus an extra 4 years of powertrain protection. It's among the best warranties in the industry.

MAINTENANCE MEETS CONVENIENCE

Maintaining Boomer™ compact tractor is simple because all routine maintenance points are located in easy-to-reach spots. Plus, you can check engine oil level conveniently without raising the hood and without removing the loader.

ACCESS DOESN'T GET ANY EASIER

This is the best compact tractor when it comes to easy service access. For simple access to the engine, radiator, air cleaner, power steering and battery, the hood raises and pivots forward. Even when a loader of front blade is attached. There are no side shields to be removed, lost or damaged.

---