BOOMER™ 41
New Holland Boomer™
Gallery
CALL FOR PRICE
410-247-9600
Features*
Quiet, fuel-efficient engines give you the power you need for loading, mowing, digging, blowing snow, tilling, and much, much more. You get fast implement response and steering thanks to the high-capacity, dual-pump hydraulic system

A HELPING HAND FOR ALL THE TASKS YOU HAVE

If you have a large property and a wide variety of chores, step up to a deluxe Boomer™ Compact Tractor. Their exceptional power, maneuverability and ease of operation make them ideal for homeowners and part-time farmers alike.

Engine
HIGH POWER AND PERFORMANCE
Whether you use your tractor to maintain a few acres or you depend on it to make a living. Boomer™ compact tractors will deliver. In all, there are four models ranging from 33-47 hp to choose from. As a rule of thumb, the more work you do in a typical week, the greater the horsepower you'll want.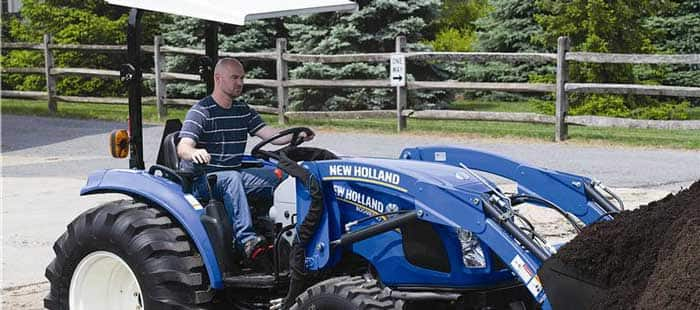 Durable Engines

Proven 3 and 4 cylinder diesel engines with 91 to 135 cubic inches of displacement provide power for your toughest chores.

Exceptional Drivetrain Efficiency
To male you more productive when using implements powered by the rear or mid PTO, Boomer compact tractors are designed with drivetrain componenents that provide maximum PTO horsepower while minimizing engine power loss.
Well-equipped for inclement weather
To ensure fast starts in cold weather, Boomer compact tractors come equipped with a quick-heating glow plug and a heavy-duty 6660 CCA battery that provides plenty of cranking power.
Made to accomadate more
Superior battery charging and the capability to handle higher demand of additional electrical accessories provided by a 50-amp alternator.
---